PRICES
The cost of written translation depends on:
- the category of translation (see section "About the company" – "Quality of services");
- the complexity and purpose of the text (the cost of translation of text intended for publication may be considerably higher than the cost of text to be used as an "internal" company document);
- the level of urgency (we try not to charge extra for urgent orders, but in some cases the cost of a top-priority order may be increased;
- the volume of work;
- the language pair (translation into a foreign language is more expensive than translation into Russian, likewise for translation from one foreign language into another foreign language);
- additional services (such as page layout, proofreading by a native speaker, etc.).
You may receive a preliminary estimate of the time and cost of performing a particular translation by phoning us, or sending us an example from the text.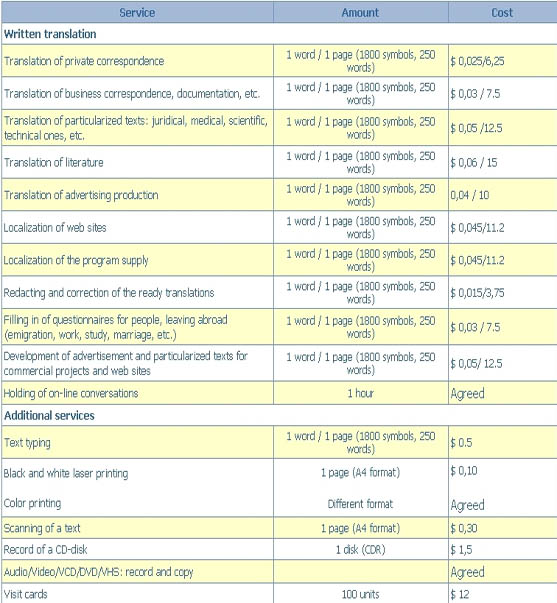 Besides the in cash payment we offer you more convenient terms and means of payment.
If other type of payment is more acceptable for you we will be always pleased to share your opinion and to create appropriate circumstances for customers.
Bank transfer.
This is the most traditional type of payment for legal entities and natural persons. Bank details will be given in the receipt provided by us that is available upon request. For bank transfer 4-7 days are required.

Terms and means of payment
By eMONEY you can:

1. Transfer the amount to other eMONEY user from your eMONEY account.
2. Perform Internet payments without the credit card.
3. Use the eMONEY as a means of payment for Internet business.